Parents routinely fight an uphill battle to keep their infants and children entertained and occupied on long car rides. If you've experienced this in the past, we hope you take a little time to examine the car songs on CD that are available through kimboed.com. Our wide array of terrific titles will not only keep your kids enthralled until you reach your destination, they'll also help them learn and refine essential skills in the process.
Through car-friendly music and movement activities, children of all ages can expand their vocabularies, learn about cultures from around the world, sharpen their motor skills and learn much more. Just use the category links on the left side of the page to explore the site and find the right titles for your children.
Kimbo Educational has created a diverse selection of audio programs designed to get kids up and moving around. This collection of music and movement activities includes great tools for parents, physical education teachers, classroom teachers, daycare workers and even instructors of special needs groups. Some of the titles are focused on specific types of dance, aerobics and motor skill development, and others have greater variety on each disc. You can use these recordings for physical education classes or to supplement childrens physical education efforts in the classroom if it appears that your students aren't getting sufficient activity time during the rest of the school day. As you browse, be sure to look for links to free Mp3 clips from each of our titles.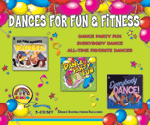 Childhood obesity is still on the rise, and there are many other disturbing trends regarding the health and fitness habits of our youngest generation. Because of these trends, generating interest in childrens physical education can often be a difficult thing to do.
We've found, however, that our fitness, movement and dance activity recordings can make almost any child interested in getting active, no matter how sedentary they've become. From car songs to P.E. class tools, Kimbo Educational is working to meet the needs of every educator, parent and child.