If a child can gain an appreciation for the enjoyment and value of exercise at an early age, there's a great chance that that child will keep those healthy habits for a lifetime.
We take the health of children very seriously at Kimbo Educational, which is why we've created our award-winning aerobics for kids CDs and DVDs. All of these programs have been designed with care and tested with children to make sure that they're fun for the kids and are effective ways of getting fit.
If your school or classroom is ready to take a more serious and focused look at obesity and physical education, we hope you spend some time learning more about our exercise programs today. Extensive details are provided for each of our titles, and we're always happy to field questions from our customers. Just fill out the convenient Web-based e-mail form on the Contact Us page to learn more.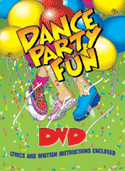 Across the country, school budgets are being scaled back and many school programs and activities are suffering as a result. In many cases, P.E. programs are the first to be affected. The link between increased rates of childhood obesity and physical education shortfalls are as obvious as they are unfortunate. But even traditional classroom teachers can get involved in P.E. objectives with the help of Kimbo Educational by utilizing our music and movement activities. We've created simple, fun and effective activities that can be enjoyed in any classroom to help students get the daily physical activity they need to stay healthy. Our available activities include:
Dance CDs
Bean bag activities
Parachute play
Scarf play
Ball, hoop and ribbon activities
And many more!
By offering programs of aerobics for kids at affordable rates, we're hoping to encourage healthier habits among children everywhere. Please take your time as you review our available titles, and be sure to sign up for our free e-mail newsletter if you would like to remain updated on our newest releases.